Condo Mortgage Financing in Toronto
Unlock the door to your dream condo with our tailored mortgage financing solutions in Toronto, GTA cities, and across Ontario.
Contact us for assistance with your mortgage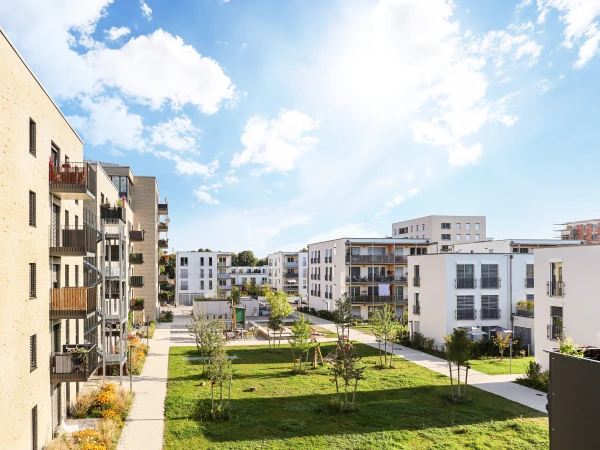 Whether you're struggling with a poor credit score or need a more flexible payment plan, we can connect you with lenders to make your condo dream a reality.
Condos, short for condominiums, are a type of housing where each tenant owns their own flat. In this type of housing, all members jointly own and manage the building's shared amenities. Condos can come in various sizes, ranging from studios to multi-bedroom apartments, and can be located in high-density urban areas or suburban or rural settings. As an owner of a condo unit, you have some rights and responsibilities. These include maintaining your unit, paying association fees, and participating in decisions regarding the shared areas of the building.
Finance for Condos in Toronto, GTA cities, and across Ontario
Condo mortgages work similarly to traditional home loans, with some differences in how lenders evaluate the property and associated fees. You can obtain finance for condos after providing a down payment and applying for a mortgage. Your credit score, debt-to-income ratio, and other financial factors will play a role in determining the type of loan and interest rate you are eligible for.
When evaluating a condo association, lenders will look at factors such as the percentage of owner-occupied units, the number of units delinquent on dues, any lawsuits involving the condominium corporation, and the financial stability of the corporation.
It's important to note that condo loans may also come with additional fees, such as condo association fees and assessments. Before you purchase a condo, you should take these costs into account because they can affect your total affordability.
At Orion Financial, we are committed to helping clients make informed decisions about their condo purchases by providing guidance and advice throughout the mortgage process. Our team provides a detailed breakdown of all the costs involved, including the down payment, closing costs, and ongoing monthly expenses. This helps clients understand the total cost of homeownership and avoid any unexpected expenses in the future. 
Orion Financial - Your Trusted Partner for Condo Mortgage in Toronto
We understand that buying a condominium can be a significant financial decision, and choosing the right mortgage product is crucial. Because of this, we provide a range of mortgage choices to meet your specific requirements and preferences. 
Here are some of the different types of property loans available at Orion Financial:
1- Fixed-rate Mortgages
Fixed-rate condo mortgages are a popular choice among homebuyers because they offer stability and predictability in monthly mortgage payments. With a fixed-rate mortgage, your interest rate is locked throughout the duration of the loan, ensuring stability and predictability in your monthly payments.
2- Adjustable Rate Mortgages (ARMs)
ARMs offer lower initial interest rates, but the rate can adjust over time based on market conditions and the lender's prime rate. They are suitable for short-term residence or anticipated income growth.
3- Variable Rate Mortgages (VRMs)
Variable-rate mortgages are home loans in which the interest rate is not fixed but fluctuates based on changes in the lender's prime rate. They generally have lower initial interest rates compared to fixed-rate mortgages. VRMs feature a static payment structure that remains unchanged throughout the mortgage term, unless a trigger rate is met.
Follow these Steps to Get Your Dream Condo with Orion Financial
Establish a budget:

Before starting the mortgage application process, it's essential to determine the amount you can comfortably spend on your condo. This will help you to focus your search and keep you from considering homes that are too expensive.

Pre-approval:

A crucial aspect of buying a home is getting pre-approved for a mortgage. It helps you stay within your budget by estimating how much you can borrow. At Orion Financial, we can help you get pre-approved for a condo mortgage quickly and easily.

Find a real estate agent:

If you haven't already, look for a real estate agent who specializes in selling condos. A condo expert can assist you in discovering homes that meet your demands and budget.

Find the right condo:

Once you have a mortgage pre-approval and real estate engagement for a mortgage, start looking at condos that meet your criteria.

Make an offer:

Now that you've found the perfect condo, it's time to make an offer. Work with your real estate agent to negotiate the terms of the sale and submit your offer to the seller.

Finalize your mortgage:

Once your offer has been accepted, it's time to finalize your mortgage. At Orion Financial, we'll work closely with you to ensure that your mortgage application is complete and accurate.

Close on the condo:

The final step in the process is to close on your condo. This means finishing the required papers and covering closing expenses. At Orion Financial, we'll be there every step of the way to ensure a smooth and stress-free closing process.
Know What Others Are Saying
Had the best experience with Maksim and his staff. Everything was quick and easy. Maksim is well-connected and finds the best lending solutions for your needs. He follows up every step of the way to ensure you're not missing any deadlines. Definitely, someone who goes above and beyond! Thank you so much!
Marie H

Hands down best mortgage service in the city. Maks and the team helped me with my closing and provided a variety of different lenders. No matter how complex your situation is, they can help get it done!! Looking forward to future support
Rano U

I reached out to Maksim after being referred by a friend of mine. Maksim was great to work with! Got us a great rate and was there to answer questions along the way (house finances are stressful enough to deal with). Made the process quite a bit easier for us. We had a great experience the first time around, so we've now actually used him for 2 mortgages. I don't see a need to seek anyone else!
Imad Khalil