Mortgage Lenders in Toronto for Borrowers with Low Credit
Turn your low credit score into financial success with our financing solutions in Toronto, GTA cities, and across Ontario.
Contact us for assistance with your mortgage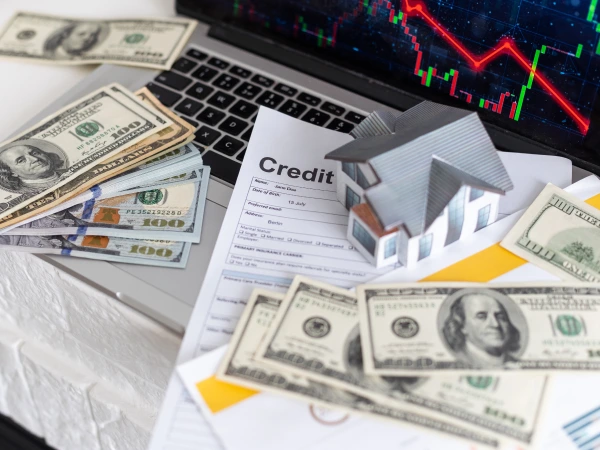 Low credit scores can make it challenging to obtain financing for various reasons, including the increased risk to lenders, which often results in higher interest rates or stricter lending criteria. That's where Orion Financial comes in. Our team of experts has the knowledge and experience to help clients navigate the complex world of low credit score financing and find tailored solutions that meet their unique needs.
What is Low Credit Score Financing?
Low credit score financing refers to loans or credit options that are available to people with a low credit score. A credit score is a number that, based on a person's credit history, indicates how creditworthy they are. The lower the score, the riskier it is for lenders to provide credit, and as a result, low credit scores can make it more difficult to obtain financing options.
A low credit score is typically considered to be below 650, although this can vary depending on the lender and the type of loan or credit. Some common reasons for low credit scores include missed or late payments, defaults on loans, bankruptcy, and high levels of debt.
Who Can Benefit from Mortgage Lenders for Low Credit?
Many first-time homebuyers may have a limited credit history or may have experienced financial setbacks in the past, resulting in a low credit score. At Orion Financials, we evaluate the unique needs of first-time homebuyers and offer tailored mortgage lending options to help them get into their first home.
Self-employed individuals
Self-employed individuals may face challenges in proving their income and financial stability, which can impact their credit score. We have experience working with self-employed borrowers and can provide mortgage lending options that take into account their unique financial situations.
Individuals with past credit issues
Financial difficulties such as missed payments, defaults, or bankruptcy can result in a low credit score. We understand that everyone faces financial challenges at some point in their lives, and we are here to provide mortgage lending options to individuals who may have experienced past credit issues.
Individuals seeking to rebuild credit
Orion Financial believes in the power of credit rebuilding. That's why we connect you with Mortgage Lenders for Low Credit who help individuals improve their creditworthiness over time. Additionally, our team provides guidance on how to manage mortgage payments responsibly to rebuild credit and achieve long-term financial stability.
Why Choose Orion Financial as Your Mortgage Lenders for Low Credit?
Your choice of Mortgage Lenders for Low Credit directly affects your loan success. That's why we offer a unique set of advantages that set us apart from other financing providers. Here are a few reasons why Orion Financial is the best choice for all your financing needs:
At Orion Financial, we pride ourselves on finding the Best Mortgage Lenders for Bad / Low Credit for our clients. We understand the unique challenges and opportunities that low credit scores present, and we have the expertise to help you navigate the financing process and achieve your financial goals.
Bad Credit Mortgage Lenders are hard to come by. At Orion Financial, we not only find mortgage lenders for people with low credit but provide financing solutions with competitive interest rates too. Our team works hard to find affordable lenders while still providing the personalized service and customized financing solutions that our clients expect.
Our process is transparent and straightforward. We believe in open communication and work hard to ensure that our clients are informed and involved in every step of the financing process.
At Orion Financial, we find leading Mortgage Lenders for Low Credit and offer personalized service to ensure we provide the best possible financing solutions for each project. We are adamant about developing trustworthy connections with our clients and working directly with them to help them achieve their financial objectives. 
Orion Financial's Approach to Low Credit Score Financing
As mortgage brokers, our team at Orion Financial takes a detailed approach to low credit score financing. We are aware that individuals with low credit scores may face challenges when it comes to obtaining financing options, and we are committed to providing personalized service and support to help our clients achieve their financial goals.
Understanding Our Clients

We believe that every client is unique, so we take the time to understand their individual financial situation. In order to fully comprehend each client's needs, objectives, and obstacles, our team of skilled specialists collaborates directly with them. After reviewing your case, we provide specialized financing alternatives catered to your unique situation.

Providing transparency and information

We believe in transparency and fairness when it comes to financing options. To help our clients make informed decisions, we are transparent about the lender's interest rates, fees, and payback conditions. Moreover, our experts also offer information and direction on how to handle money sensibly and raise credit ratings over time.

Offering a range of financing options

We offer a variety of financing options, including residential mortgages, commercial mortgages, and business loan applications for existing businesses. Our team works closely with each client to determine which financing option is best suited to their needs and financial situation.

Providing ongoing support

Orion Financial is committed to providing ongoing support to our clients throughout the financing process. We offer personalized service and support, and we are always available to answer questions, provide guidance, and help our clients navigate the financing process.

Focusing on long-term financial stability

We believe in helping our clients achieve long-term financial stability. To do this, we provide guidance on how to manage finances responsibly, build credit scores, and achieve financial goals over time. Our ultimate goal is to help our clients achieve financial freedom and independence.
Know What Others Are Saying
Had the best experience with Maksim and his staff. Everything was quick and easy. Maksim is well-connected and finds the best lending solutions for your needs. He follows up every step of the way to ensure you're not missing any deadlines. Definitely, someone who goes above and beyond! Thank you so much!
Marie H

Hands down best mortgage service in the city. Maks and the team helped me with my closing and provided a variety of different lenders. No matter how complex your situation is, they can help get it done!! Looking forward to future support
Rano U

I reached out to Maksim after being referred by a friend of mine. Maksim was great to work with! Got us a great rate and was there to answer questions along the way (house finances are stressful enough to deal with). Made the process quite a bit easier for us. We had a great experience the first time around, so we've now actually used him for 2 mortgages. I don't see a need to seek anyone else!
Imad Khalil